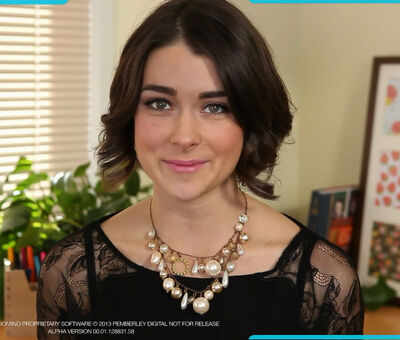 Georgiana "Gigi" Darcy is the younger sister of William F. Darcy, the current CEO of Pemberley Digital. Gigi works for the family company as a part-time graphic designer and is also the spokeswoman for the Domino project.
Early life
Edit
Gigi was born in 1991, the second child of Anne F. and William S. Darcy. She attended a prestigious private school for her early education before going to college.
Pemberley Digital
Edit
In college, Gigi began working for Pemberley Digital as a part-time graphic designer. She has achieved critical acclaim for her work in this field. One particular interest of hers is the ways in which digital media connects people around the world. She is also trained as a tour guide, but prefers her usual capacity as graphic designer.
Gigi is Pemberley Digital's primary spokeswoman for Domino, its newest video software app. She was heavily involved in the alpha testing stage and recommended that the auto-upload feature of Domino be disabled. During Domino's beta testing stage, Gigi moved to Sanditon, CA to help the townspeople get started with using Domino. She records videos using Domino technology to demonstrate the ways that Domino is changing Sanditon.
In the near future, Gigi plans to pursue further studies in graduate school.
Personal life
Edit
Gigi has a very close relationship with her older brother, William, who takes care of her and keeps her out of trouble. When she was in college, she allowed George Wickham, an old family acquaintance, to move in with her. It was later revealed that George was motivated by a desire for revenge against William as well as a scheme to inherit the Darcy fortune through Gigi. The arrangement proved detrimental to Gigi and the Darcy family, and William persuaded George to leave her alone.
Gigi swam competitively in college and is an avid tennis player and skier. One of her favorite flavors of ice cream is rosewater-pistachio. She is a fan of The Great Gatsby and once used a quote from the novel as her Twitter header.
External links
Edit